The first batch of laundry was a botch….not sure why? Think bcuz I didn't give it time to soak. Second and third loads have turned out fantastic! I'm super psyched about it. The clothes FEEL clean, not like with toxic detergents! There's no residue, no smelly fragrance, and everything is fluffy soft. I'm really impressed (with myself). Wish I would have done this sooner!
I throw a load in the washer, and leave the lid open…so it just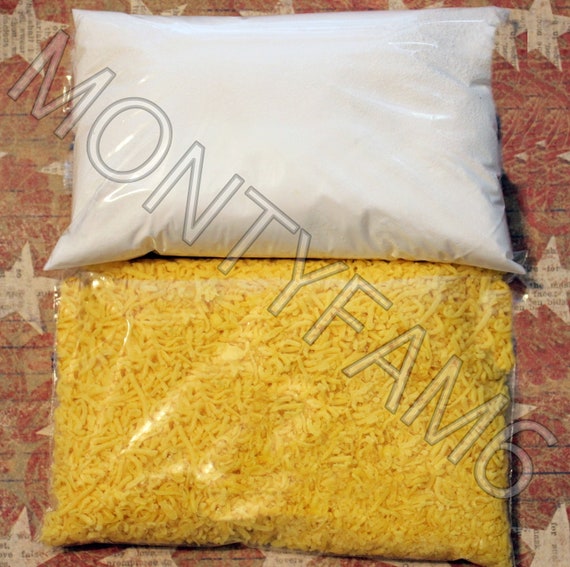 sits there and soaks awhile…think it's averaging about half an hour. Then run it through the regular wash. I only use cold or lukewarm water, and one rinse cycle. Price per load varies from about 7¢-12¢ a load. Definitely going to try a wet batch next time, bcuz seems the same measurement (recipe wise) go a LOT further. Here's someone selling premade kits on Etsy for $10
She says the kit makes 10 GALLONS of LIQUID LAUNDRY SOAP TOP LOADERS: 1/2 C per load (approx 320 loads!)
FRONT LOADERS: 1/4 C (approx 640 loads!)
or
DRY LAUNDRY SOAP for TOP or FRONT load machines
1-2 TABLESPOONS per load (approx 35-40 loads!)
So……that's a HUGE difference!
I pulled all chemical cleaners from under the kitchen and bathroom sinks, and all the laundry products. Started going through the bathroom today…removing body lotions, shower gel, etc. Also went on a steam cleaning frenzy.
The house FEELS so much cleaner.
My first batch of homemade laundry soap was a dry/powder batch, but I put a scoop in a spray bottle, and have been using that for cleaning around the house. Just added hot water to fill, and shook it up for a bit. Works great. The most amazing thing…I put a TBS in the dishwasher, and was shocked that everything came out SPARKLING!!! Easily…ten times better then the "Finish Quantum Powerball" stuff that was being used before….so, I'm totally HAPPY with all the results thus far! Oh….I did put regular white distilled vinegar in the rinse compartment.
I'm not going to post a recipe for dishwasher detergent, bcuz the laundry soap recipe is working so well!!! Most recipes call for kosher salt, and citric acid. Might give this a try down the line, but to me….they're just added cost that don't appear necessary.
Thought it would be cute to post this 1912 WASH LIST from Grandmother to a New Bride!
Bild fire in back yard to heet kettle of rainwater.
Set tubs so smoke won't blow in eyes if wind is pert.
Shave one hole cake lie soap in boilin water.
Sort things, make three piles. 1 pile white. 1 pile cullord. 1 pile work britches and rags.
To make starch stur flour in cold water to smooth then thin down with boilin water.
Rub dirty spots on board, scrub hard, then boil. Rub cullord but don't boil — just rench and starch.
Take white things out of kettle with broom stick handle then rench, blew and starch.
Spred tee towels on grass.
Hang old rags on fence.
Pour rench water in flower bed.
Scrub porch with hot soapy water.
Turn tubs upside down.
Go put on cleen dress, smooth hair with side combs, brew cup of tee — set and rest a spell and count your blessins.
"Blew" or Bluing…is an additive that use to be (and sometimes still is) added to the rinse water
for white items. It's basically blue coloring, that gives whites a "brighter" appearance. It's an old timey thing to lay whites out on green grass to dry. I'm sure the sun has a lot to do with it, but the grass is also supposed to help with bleaching. I have done this, and it does work.
We use to have a washing machine like the one right, when I was little, and we lived way up on French River (Ontario)…pretty much in the middle of nowhere. I use to love feeding the sopping clothes, through the roller bars. 'Cept when it would grab my fingers!