I was sadly disappointed this morning, when I googled "no more toilet paper", and "toilet paper free"…only to find thousands of post on free offers for TP, and end-of-roll scenarios, and how not to panic. I knew there had to be people out there practicing a TP-free lifestyle. Well…using the correct term would help. They're called "Family Cloths", and bam….my spirits were lifted by an array of google images, featuring brightly colored swaths of bum wipe! Yay! I found them. The green gone goofy types. The myfits, the outsiders, the whacko's in all their glory.
CLICK HERE TO SEE ALL THE PRETTY PICTURE AND GET SOME TP-FREE INSPIRATION!
This isn't like declaring yourself a trendy, raw foodist, where people oohh and ahhh, and pay reverence to your incredible self-control. No, this social taboo will you get you blank stares, and gaped jaws. I was watching the "No Impact Man" documentary a few nights ago, and there was a part where a wife had insisted her husband had no further contact with the no-impact couple, after learning they'd gone TP-free. It's the point in the doc, where people stop taking them seriously, and worse….start turning on them as 'extremists'. Pretty ridiculous since I wipe my baby's butt with homemade wipes, or washcloths, wash and reuse them. And, I'm much concerned about the safety of his hygiene, then my own (except for when am in the washroom in my house, of course). What's the gross part?? Reusing something that you've wiped your ass with, to wipe your ass with again? Sorta doesn't make any sense. Cloths can be color coded, if there's concern about cross-contamination, but seriously….everyone sits on the toilet seat without thought, and that's way more nasty. It's something else. Just a weird stigma no one can articulate fully….it's just plain "wrong".
Most people will never get to the point where they believe their toilet paper habit is enough to be part of the problem, but take into consideration that Americans use more than 3.2 million tons of toilet paper annually, cutting down 54 million trees in the process. The production of each roll requires an average of 37 gallons [140 liters] of water. The average American uses 57 sheets of toilet paper per day, about 3.7 gallons of water per day figured for just for the manufacturing process! That a MASSIVE problem! It's also a drastically increasing problem as demand for toilet paper is increasing exponentially across the globe!
PLEASE READ THIS ARTICLE "FLUSHING FORESTS" FOR MORE ON THE GROSS WASTE OF TP.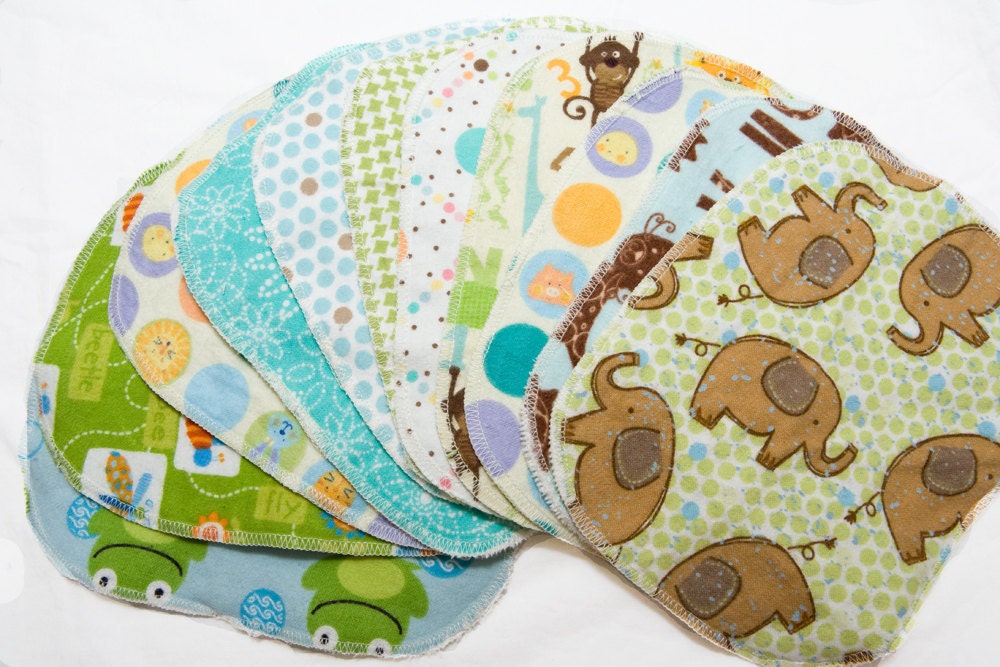 CHECK OUT ETSY TO BUY PREMADE FAMILY CLOTHS. PRICES RANGE FROM $5 – $40 OR SIMPLY MAKE YOUR OWN FROM OLD TOWELS, T-SHIRTS, OR FLANNEL BLANKETS. COST = $0.00! 
Sara from My Merry Messy Life
The basic set up for going TP-Free, is some kind of container to hold clean wipes. Some use small plastic containers, while others proudly display them in pretty baskets. For used wipes, you can use a tiny trash can (w/lid!) or something called a "wet bag", that hangs on a hook. People that use trash cans, suggest getting one of those "delicates" net laundry bags, to use as a liner. That way…it can simply be pulled from the can, and tossed in the laundry without having to fish out soiled wipes. Good idea!
Here's another useful idea to incorporate a "wet system" into the plan! You can get yourself a sleek
little gadget called a TJEBBI (pictured right), but I haven't found any place to purchase them atm. Or, there are quite a few choices for DIY install, handheld bidets, that you can get online that range from $20 – $80. Pretty sure the complaint here has been…they only hook up to cold water!
Or…how about a little Peri bottle that you can pick up anywhere for around $1.00
To be complete honest….once one is capable of wrapping their head around the facts….it really makes a lot more sense to use reusable wipes. With a squirt bottle nearby, filled with some lovely, infused water…it can get the job done better, then any wad of triple-ply. It's eco-excellent, saving many living species that would otherwise be displaced in deforestation. More oxygen, less landfill, and cleaner behinds. I don't see the protest. My best-friend & roommate on the other hand does. "Absolutely Not! No way! No how! Never!" With a little rant on how she's free to do whatever she wants, and doesn't care at all what point I'm trying to make. Which of course, only makes me want to proceed with it all the more! >:)